The Identity Ecosystem analyzes and characterizes the relationship between identity attributes.
The security and privacy of Personally Identifiable Information (PII) affect various sectors of our society in numerous ways. Learn how the Center addresses these unique challenges.
Explore UT CID research publications on a wide range of identity, information security and privacy topics from Center projects. Click below to browse the entire library of publications.
A multidisciplinary team of Researchers from across the UT Austin campus collaborate on groundbreaking, interdisciplinary research in information security, identity and privacy.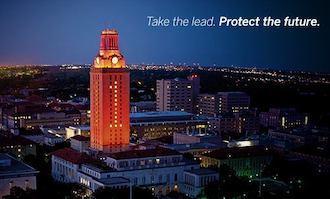 What Happens Here Changes the World
The University of Texas at Austin established the Center for Identity to serve as a center of excellence for identity management, privacy, and security. The Center research and education programs are delivering new and innovative advances to anticipate and mitigate current and future identity threats, while offering leadership, vision, and solutions for now and well into the future.
Graduate Degree and Certificate Programs
The Master of Science in Information Security and Privacy (ISP) is the Nation's premiere professional degree program for those seeking employment or career advancement in the dynamic field of information security and privacy. The Center for Identity joined with the top-ranked University of Texas School of Information to offer this unique interdisciplinary program bringing together law, public policy, communications, technology and the social sciences. The MS ISP delivers a 360-degree perspective of information security and privacy not available through other programs in cybersecurity and information assurance.
The Identity Leadership certificate program offered by the Center for Identity at The University of Texas gives you the knowledge and skills to lead the complex business of identity – from assets, liabilities, planning, operations and workforce.
Combining academic excellence with real-world case-studies and relevance, this 3-day program will provide you with the tools, insights, and skills to help advance your career and make an immediate impact on your organization. You will have the chance to meet, learn from, and work with other experienced professionals from a wide range of industries while learning a truly interdisciplinary approach to identity.
The UT Center for Identity offers customized certificate programs on a wide range of topics, including a customized version of our 3-day Identity Leadership Certificate program. Other customization options include topics and content, use cases and examples, location, and timing and participants. The Center for Identity will work collaboratively with your organization to create a topic-based program tailored to your organization's needs, to get your team the training it needs. All participants of customized short courses will receive a completion certificate and continuing education credit hours.